Melbourne's bayside suburbs more expensive than Toorak, REIV data shows
Melbourne's bayside suburbs more expensive than Toorak, REIV data shows
Bayside suburbs, such as Albert Park, Middle Park, and South Melbourne, are attracting higher prices per square metre than Melbourne's most exclusive suburbs, according to the latest data from the REIV.
Homes in Melbourne's inner-city bayside suburbs, such as Albert Park, are more expensive per square metre than those in exclusive suburbs such as Toorak, according to new data from the REIV.
Albert Park buyers paid on average $13,000 per square metre during the June quarter - the highest rate of any Melbourne suburb.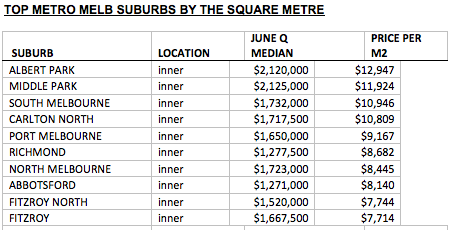 Source: REIV.
Albert Park's median house price is $2,120,000 - the ninth highest in the city.
David Wood, of hockingstuart Albert Park, recently sold a three-bedroom Art Deco house at 24 Herbert Street, Victoria, for a hefty $5 million, showing just how strong demand is in the suburb.
View the listing for 24 Herbert Street, Albert Park, on Luxury List.
Melbourne's Middle Park and South Melbourne, which neighbour Albert Park, achieved the next highest prices per share metre, with Middle Park property selling for $11,924 per square metre during the June quarter, and South Melbourne property selling for $10,946.  
Despite Toorak's median house price sitting at a whopping $4.75 million for the June quarter, the suburb's vast homes and sprawling blocks mean the price per square metre sits at a relatively modest $7,130.
Joseph Walton, president of the REIV, said Melbourne's top suburbs per square metre are mainly in areas where apartments and two-bedroom houses are the main type of housing. 
Space is at a premium within 5km of the city
"Space remains at a premium across the city," he said.
"Proximity to the city remains a key factor for buyers, with the most expensive suburbs by the square metre located within five km of the CBD." 
Walton explained that when these suburbs were first established, the homes were primarily built for workers. 
"These suburbs have since grown in stature and are now highly desirable," he said.
Walton said there is strong competition for homes close to the city at both the top and bottom ends of the market.
"Quality infrastructure and amenities are also driving growth in these areas," he said.
Many buyers are also now "willing to consider a smaller home rather than move to a suburb further out," said Walton.
The top rates in Melbourne's middle ring suburbs were Brighton ( at $4,851 per square metre), Sandringham ($3,746sqm), and Hampton ($3,560sqm). 
In the outer suburbs, Patterson Lakes topped the list at $2,850 sqm.
Read more about Melbourne real estate:
An Art Deco home in a converted Melbourne dairy is for sale
Why is Melbourne's property market outpacing Sydney's?
Melbourne market is still very active at the high end: Chris Savvides, Jellis Craig Doncaster