Get to know Peter Downes: 'Never live in a boring house again'
Get to know Peter Downes: 'Never live in a boring house again'
Peter Downes designs adventurous but unpretentious homes, often on difficult sites with spectacular views, around Sydney's beautiful northern beaches.
Peter Downes' motto is 'Never live in a boring house again.' The homes he designs, which are generally on Sydney's northern beaches, are adventurous but unpretentious, blended with the surrounding environment,  and often on difficult coastal sites with jaw-dropping views.
What is the most interesting brief you've been given by a client?  
My first major project, the Maas house at Newport. At the time all I had done were modest alterations and additions, and a brave friend who had just bought an old house looking due north over Bilgola Beach said, "Have a go at designing a new house, and if I like it, I will pay you and build it." 
The engineering background helped as I created a large hollow  space for the living areas with the pyramid roof, the stairs and some of the floors all supported by 4 central steel posts.
Image: Maas House, Newport.
Did you take on the project?
Yes as it was golden opportunity to take my architectural career up to a much higher level where I have operated ever since. My friend did like and build it, and paid me.
To read more about Peter Downes' Maas Newport house click here. 
With over 30 years of experience designing homes in Australia, what trend in your opinion has stood the test of time and remains perennially popular?
For a few decades now, Australian houses have been featuring lots of open space, large glass areas, and an excellent connection to the outside world. We have totally shaken off our inherited tradition of architecture suited to the cold British climate, so our houses now embrace our sunny al fresco life style. 
You have won many awards; what has been the most significant for you?
Probably all the awards that the Orczykoski project won because it was a relatively modest and unpretentious house. No gold plated taps or marble floors, just a simple informal house made from weatherboard, corrugated steel and plasterboard. It has all the room that most people need for a family home, and I use it as a role model when designing new houses as it's easy to get carried away and produce unnecessarily large houses. Every square metre has to be paid for, and furnished, and maintained, and heated and cooled.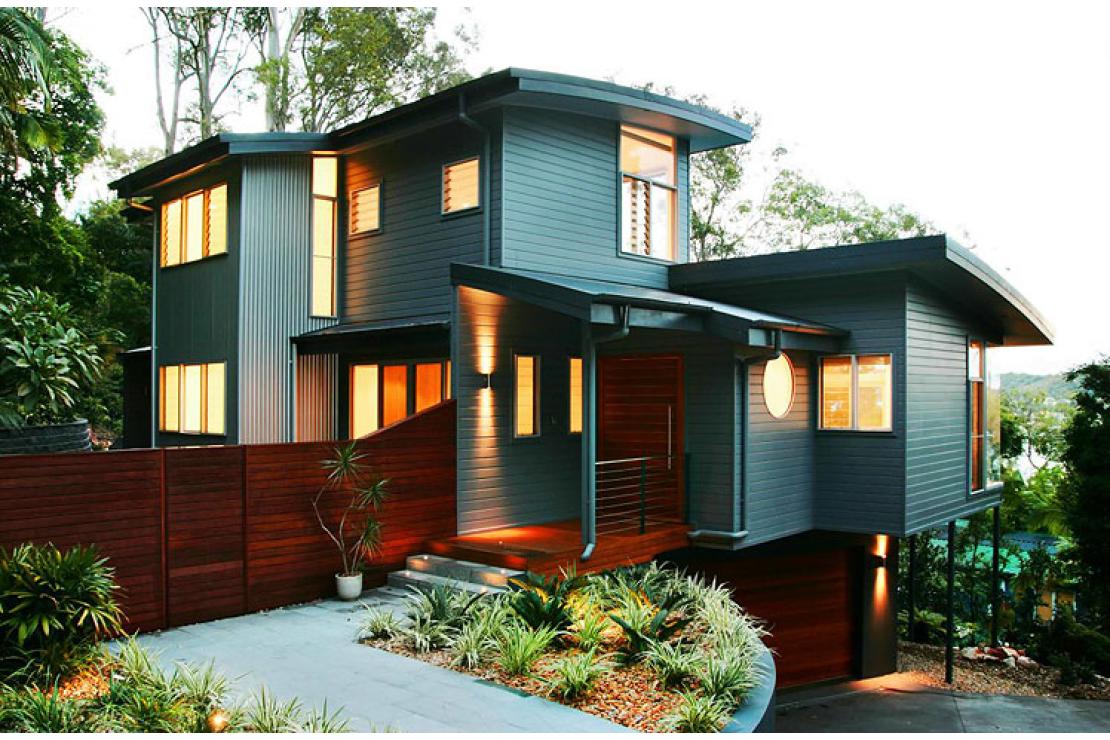 Image: Orczykowski House.
The Walter House is up there too as the site was basically a cliff, with lots of beautiful rock that we kept and highlighted.
Image: a sandstone wall featured in Walter House, Curl Curl.
What trends do you see emerging in design?
I see a lot of new houses that have no eaves over the windows and doors which is huge backward step for our climate. My reaction to this illogical fashionable trend is to make the eaves wider, like a board brimmed hat, to deal with the harsh Aussie sun.
What draws you to Sydney's northern beaches in particular?
It is one of the best places in the world to live, with beautiful beaches, lots of hills and trees, and Pittwater and Kur-ring-gai national park, all not too far from a fantastic city. And lots of old houses that need replacing as they no longer meet contemporary expectations.
Where do you live now, and where would you live if you could live anywhere in the world?
I live in Avalon in my favourite street, and there is nowhere else in the world where I would rather be based.
Today's Feature Property in The Real Estate Conversation, a Palm Beach home with a two-storey boat house, was designed by Peter Downes. 
Read more about Australian architects:
Get to know Dina Malathounis, award-winning architect and founder of Junctions 90
Get to know Peter McIntyre, 70 years as an architect and still at the drawing board
Get to know architect Elizabeth Watson Brown, design director with Architectus