Brisbane set for second-highest office rental growth in Asia Pacific: Knight Frank
Brisbane set for second-highest office rental growth in Asia Pacific: Knight Frank
Knight Frank's forecasts for 15 prime office markets in the Asia Pacific show that Brisbane is likely to experience office rent growth of 16.5 per cent in the three years until 2020.
Research conducted by Knight Frank for the fourth edition of Global Cities: The 2018 Report shows that Brisbane is set to have the second-fastest growth rate for office rents.
Knight Frank provided three-year forecasts for 15 prime office markets in the Asia Pacific, with Brisbane's predicted office rent growth of 16.5 per cent the second strongest expected for the region.
Three Australian cities are in the top 10, with Melbourne in ninth place for forecast office rent growth, and Sydney in tenth spot.
Click here to download the Knight Frank Global Cities: The 2018 Report.
Manila is predicted to have the strongest office rental growth in the Asia Pacific up until 2020, according to Knight Frank.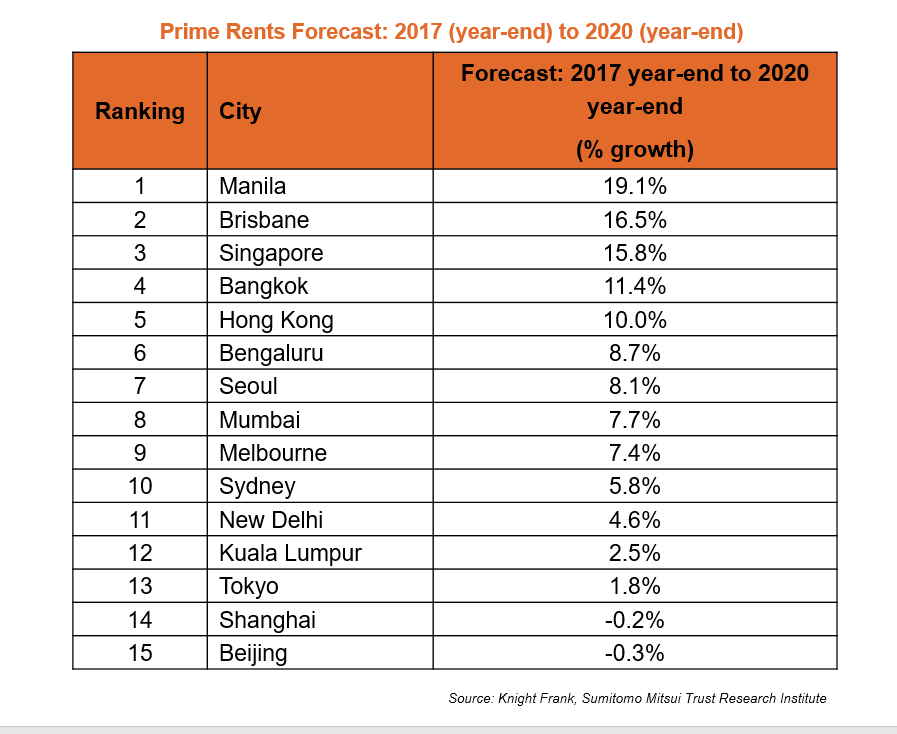 Highlights of the Global Cities forecasts:
13 of the 15 markets are expected to see rental growth over the three years from the end of 2017.
Brisbane, which in 2017 has seen the market return to rental growth following four years of contraction, is forecast to see the second highest level of growth.
Manila is forecasted to see the strongest growth in prime office rents in the Asia Pacific region, with a projected cumulative increase of nearly 20% over the next three years.
Strong occupier demand from the offshoring and outsourcing market is expected to be the key factor in driving rental levels upwards.
Similarly, Singapore, a market that has seen office rentals softening since Q2 2015, is also expected to turn the corner as demand starts to exceed supply.
Hong Kong is forecast to continue to see robust rental growth on the back of an anticipated continuation of the influx of Chinese mainland tenants.
Beijing and Shanghai, despite healthy demand, are forecast to see some rental softening as the huge pipelines of supply in both cities come to the market.
A version of this article was previously published on RETalk Asia.
Read more about Brisbane real estate:
Brisbane to be major city within decade: Bernard Salt
$18 billion worth of infrastructure investment for Brisbane